March 17, 2004
A pure gift of love
Someone recently asked me what made Bennett such a special child. What a gift it was to be asked to share the ways that Bennett was special and how he made my life wonderful. So I thought I would share it with all of you.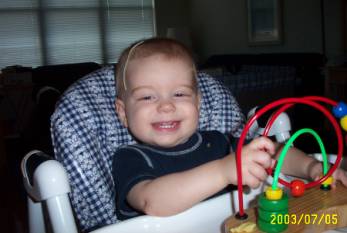 I wrote this poem for Bennett, almost two months before he was born.
Let your journey begin
Welcome to the world, son
Open your heart
And soak in the love that pours from our souls.
Open your eyes
And absorb the beauty of nature.
Open your mind
And feel delight, but accept sadness, too.
Let your journey begin
And the path unfold
To the treasures that abound.
My highest hopes were for Bennett to experience the greatest things this world has to offer us; love, beauty, and joy. And there is no doubt in my mind that he did, indeed, experience these things. He loved simple things, like bar-b-que potato chips and silly songs. And he showed his delight and love with his radiant smiles and abundant kissies.
His life had sadness and suffering too, but there is no way around this for any of us. He spent way too much time in hospitals. The irony in that is I originally wanted to have a home birth because I did not want Bennett's introduction to world to take place in a sterile cold hospital environment. Despite this, Bennett found a way to make the hospital fun. He loved to chew on his I.V. tubing and plastic syringes (needle-less). He kicked his feet every time we went through the automatic doors in the hospital. His spirit longed for fun, and he did not let cancer, doctors, or hospitals get in the way.
I often thought my greatest gift was to teach others, but quite frankly, it is apparent to me that we all have much to learn from each other. Of course, as a parent, I thought I had so much to offer Bennett as a teacher and guide. What I failed to realize when I wrote this welcoming wish was how much Bennett had to offer me as a teacher. You might ask how could a child, whose brain was consumed by cancer, who never learned to talk, who never learned to walk, how could this child teach?
Bennett taught me the greatest lesson we all must learn on this journey. He taught me how to love. He taught me how to love resolutely, completely, relentlessly, passionately, and unconditionally. Without this lesson, I do not think I would have ever come anywhere close to grasping how much God could love me.
I used to always say to Bennett, especially when it became apparent that my time with him was coming to an end, "Bennett, I love you so much, more than anything in this world, and the amazing thing is God loves you even more." Whenever I said that, I was drawn into one of those mind-baffling "wow" moments like when you look up and try to imagine how many stars are in the sky.
Bennett's name means, "little blessed one", and I know that not only was Bennett blessed, he was a blessing to many people, especially me. Bennett was my teacher. He taught me to look for blessings, to live fully in the moment, to be patient, and to rely absolutely on the love of God.
When I look back at the instructions I wrote out to Bennett on how to embrace this world, I realize these words were probably meant for me more than him or anyone else. Some of these lessons are easier than others. My journey has been blessed with a lot of beauty, love, and many bits of treasure. Yet, I am still learning to accept these tears that come in waves from time to time.
I am confident that Bennett's life was exactly what it was meant to be. And that brings me joy. How could I want anything less for my son?… a life with great purpose, a short time of suffering, and an eternity experiencing the love of God. What made Bennett so special? He was an extraordinary blessing, a pure gift of love.
Scripture
"If I speak in the tongues of men and of angels, but have not love, I am only a resounding gong or a clanging cymbal. If I have the gift of prophecy and can fathom all the mysteries and all knowledge, and if I have a faith that can move mountains, but have not love, I am nothing. If I give all I possess to the poor and surrender my body to the flames but have not love, I gain nothing."
– 1 Corinthians 13:1-3
"And now these three remain: faith, hope, and love. But the greatest of these is love."
–1 Corinthians 13:13
Quotation
"To love is to receive a glimpse of heaven." –Karen Sund
Prayer
Dear God, you have given me so many gifts in this lifetime. And I am grateful for everyone, but I am most grateful for the opportunities you have given me to love and for the love you have given me. These glimpses of heaven are a promise of the eternal love that we have in you. Amen